【Second party is here !!!】 Draft draft beer and raw cocktail ♪ 120 minutes drink & 2 items 【2000 yen including tax】 ☆
Course details
【Second party is here !!!】 Draft draft beer and raw cocktail ♪ 120 minutes drink & 2 items 【2000 yen including tax】 ☆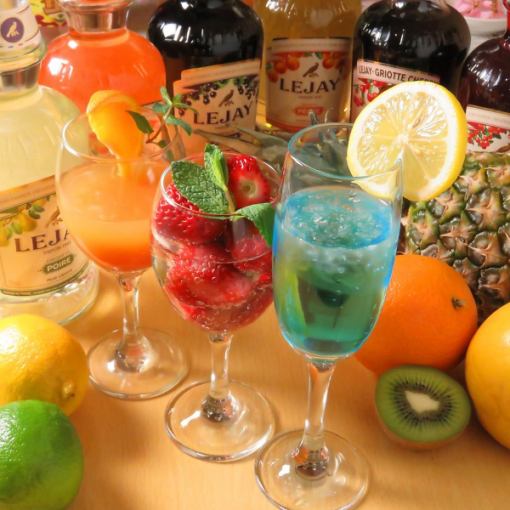 By using a coupon2000 yen
※tax included
All-you-can-drink available

: *: ★.: *: ★ 【Use coupon】 Very profitable! "All you can drink" plan: *: ★.: *: ★ "I do not know cocktails!" "I want to drink alcohol different from usual!" Do not worry ♪ Please let us know your hope, such as sweetness, strengthening, etc. STAFF will make original drinks suitable for you To
Reservation deadline

Until 1 o'clock the next day of the desired store visit
Available days for reservation

Monday - Sunday - Public holidays - Holidays
Seven Felice 's secondary course ♪ Carlsberg and raw cockte ♪ Various glass wines are all you can drink.Let's enjoy a second party of adults in a stylish atmosphere (^ ^ ♪
Course menu
Of course course ♪
Various glass wines etc.
All-you-can-eat drinks etc.
+
Appetizers with 2 items
so
How! Tax included 2000 yen ♪
I would like to enjoy various sake by suppressing my budget at the second meeting.
It is also recommended for such customers ♪
【Sunday - Thursday only】 With coupons
All course all-you-can-ask time is 【120 minutes → 150 minutes】 ♪
I enjoyed all-you-can-drink as much as you want ★
※ We will contact you as soon as possible.In the case of cancellation of the day, we will charge a cancellation fee.
All-you-can-drink menu
· ▼ Beer
· 【Beer】 Bakumo Mokkyo 【Beer Coctail】 Red Eye / Black Eye / Shandy Gaff
· ▼ High Ball / Wiskey
· 【High Ball】 horn high ball / beam high ball 【Wiskey】 Suntory angle / gym beam
· ▼ Wine
· · 【Wine】 Carlo Rossi <Red / Rosé / White> / Red ball punch 【Wine Cocktail】 American Lemonade / Wine Cooler / Kitty / Operator / Cardinal / Splitzer / Splitzer Rouge / Rosé Splitzer / Carimocho / Kiel
· ▼ Sangria
· Sangria Rock / Sparkling / Sangria Orange / Sangria Grape / Sangria Tomato
· ▼ Cocktail
· 【Campari】 Campari Orange / Campari Grape / Campari Soda / Spumoni 【Cassis】 Cassis Orange / Cassis Grape / Cassis Soda / Cassis Oolong / Cassis Milk 【Peach】 Fuzzy Negble / Reggae Punch / Peach Fizz / Peach Milk / Peach Grape
· ▼ Cocktail
· 【Mojito】 Mojito / Ginger Mojito / Peach Mojito 【Kahlua】 Caroa Milk / Kalua Matcha Milk 【Malibu】 Malibu Coke / Malibu Milk / Malibu Orange 【Gin】 Gin Tonic / Jin Back / Jin Ricky / Tom Collins / Jin Lime / Orange Blossom
· ▼ Cocktail
· [Vodka] Moscow / Vodka back / Screwdriver / Vodka Tonic / Bloody Mary / Bulldog 【Tequila】 Tequila Tonic / Tequila Back / Mexicoque / Tequila Sunrise 【Rum】 Rum tonic / Lamb back / Cuba River / Solkburn / Ram Lime
· ▼ ChuHi / Sour
· 【ChuHi / Sour】 Lemon high / Sour / Lime high / Sour / Orange high / Sour / Calpis high / sour / grapefruit high or sour / oolong hi / green tea high / jasmine high
· ▼ Plum Wine
· Plum wine rock / plum wine rice / plum wine soda / plum wine ginger
· ▼ Non alcohol
· "Non alcoholic beer" Suntory All Free / Orange Juice / Grapefruit Juice / Tomato Juice / Coca Cola / Ginger Ale / Calpis / Green Tea / Oolong Tea / Jasmine Tea / Milk / Shirley Temple / Saratoga Cooler
· ★ All-you-can-drink OK! "1780 yen Felice Plan"
· ★ 【Beer】 Carl's Birk Student ★ 【High Ball】 Citrus High Ball ★ 【Wiskey】 Canadian Club
· ★ All-you-can-drink OK! "1780 yen Felice Plan"
· ★ 【Premium Cocktail】 raw lemon sour / raw lime sour / raw cassis orange / raw fuzzy navel / raw camparian orange / raw camparian grape / W grapefruit / gliot cherry lemon / cranberry lemon tonic / pear lemon ginger
· ★ All-you-can-drink OK! "1780 yen Felice Plan"
· ★ 【Premium Cocktail】 Bulgar <Classical Mojito / Orange Mojito / Grape Mojito / Campari Mojito> / Bitter Campari Soda / Bitter Campari Grape / Bitter Campari Shot
· ★ ★ All you can drink OK! "2080 yen Seven Felice Plan"
· ★ ★ 【Bottle Wine <Red>】 Terre Fortilomanya Sangiovese / El Grill Malbec / Romeo Chianti / Bimi Mai Po Reserville Shiller / Dark Horse Big Red Blend
· ★ ★ All you can drink OK! "2080 yen Seven Felice Plan"
· ★ ★ 【Bottle Wine <white>】 El Grill Trones / Borasawave Classico / Dark Horse Chardonnay
2019/01/16 update